RADIO
Prophecy Simplified Radio w/Jake McCandless can be heard daily on the Omega Radio Network at 10:30 am CST.
The previous day's broadcast airs at 10:00 am CST and the new episode at 10:30 am. Archived episodes can be found at SoundCloud on-demand.
GUEST TEACHING ON GATEKEEPERS MINISTRY INTERNATIONAL
Prophecy Simplified's Jake McCandless teaches a 7-part study – Be a Spiritual Prepper.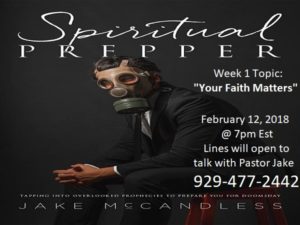 Guest Teaching on Gatekeepers International